I've been MIA for a while. Honestly, I just haven't been into this whole weight loss thing lately. I got stuck just shy of 10 pounds gone and nothing seemed to help. I got frustrated and started eating unhealthy crap again. I gained back 5 of the pounds I lost. Once again, I was in my yo-yo patters of lose, gain, lose, gain, and never break the plateau.
I have to take one of my co-workers for getting me out of the slump. She wants to lose about 20 pounds and mentioned that she was thinking of trying Healthy Trim. I'd tried it a couple of years ago and had great success with it until I had to stop taking it due to the cost. Well, they are offering a Buy 1 Get 1 Free deal right now, so we split the cost and each got a bottle. I started it back on Tuesday at a weight of 275.2. So I weighed in today, and plan to make Sundays my official weigh in day again in spite of the office challenge's official day being Fridays.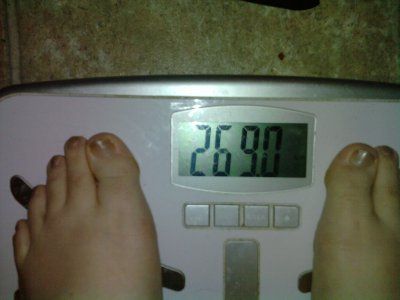 Check it out! Plateau has been broken! I am now under 270! Woot! Lost 6.3 pounds in one week thanks to Healthy Trim again! I have to find a way to continue to afford that stuff. It does work for me.
I have been working on my 100 Goals in 100 Pounds list too! I have now completed seven items on the list! However, I should be working on these at the equivalent to one goal per pound so I am behind a bit. I need to catch up 4 more goals to be where I should be on that list.
I'm glad to see the scale moving again and to be getting my motivation back. My cousin is getting married in early June and it would be nice to be 25 pounds down by then! I'm 11 pounds on my way to that so it's definitely doable.
I have also updated the photos page, if you would like to see my progress so far.